States sue Biden over executive order on greenhouse gases
In one of the many executive orders President Joe Biden signed upon taking office, he established a "Working Group on the Social Cost of Greenhouse Gases."
The order, "Protecting Public Health and the Environment and Restoring Science to Tackle the Climate Crisis," hasn't gone over well with a coalition of energy-producing states, which view the move as a massive federal overreach and threat to their economies, and they've decided to take legal action.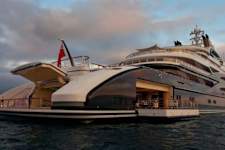 Joe Biden's New Mega Yacht is Literally a Floating Mansion – Donald Trump gave his salary as President to charities.  Joe Biden like Obama will suck America dry while working with our enemies.  Karin
Louisiana, Wyoming, Texas, Alabama, Florida, Georgia, Kentucky, Mississippi, South Dakota and West Virginia filed a lawsuit against the Biden administration on Thursday in the United States District Court for the Western District of Louisiana, the Washington Examiner reported.
The suit states that the results of Biden's environmental executive order "will remake our federalism balance of power, American life, and the American economy."
Order threatens "state's livelihood"
Among the state's objections is a provision in the order that states, "An accurate social cost is essential for agencies to accurately determine the social benefits of reducing greenhouse gas emissions when conducting cost-benefit analyses of regulatory and other actions."
A statement from Wyoming Gov. Mark Gordon (R) warned that the Biden administration's policies will be devastating to the country's economic health, the Examiner reported.
"This Executive Order improperly changes how decisions are made by applying a selective and highly biased feel-good rationale that has the potential to significantly harm industries critical to the nation's and my state's livelihood," he declared.
Gordon continued, "Arbitrarily justifying any decision to fit political circumstances, including decisions that could be devastating to Wyoming's energy sector, is not only bad policy, but is unwise."
"Expansive and expensive"
Texas Attorney General Ken Paxton also weighed in with a statement, insisting that greenhouse gas regulations "will result in the most expansive and expensive environmental regulatory initiative in history and affects virtually every federal agency."
"These estimates will be used to fundamentally transform the entire regulatory structure of the federal government, as well as the way Texas conducts its business and Texans manage their lives," he continued.
This is not the only energy-related legal challenge the Biden administration is facing. Wyoming has filed a separate suit regarding another executive order which halted the issuance of oil and gas leases on federal land, the Examiner reported.
Private energy companies have filed additional suits of their own.