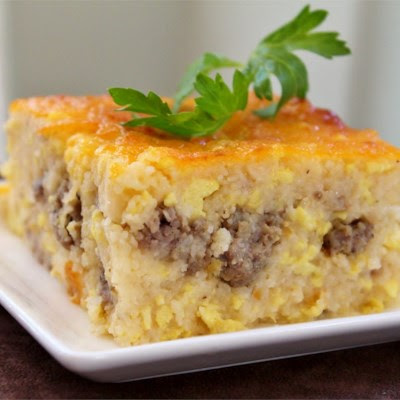 Ingredients
Recipe by:Ella Baldwin"If you're from the South you will definitely love this recipe, which includes grits, eggs, sausage, and cheese. When I cook it, I place it in the slow cooker to stay warm. There is nothing worse than cold grits."
6 cups waterTIP! To enhance the flavor of your dish use Swanson® Chicken Broth instead of waterTaste the Swanson ® differenceLEARN
2 cups uncooked grits
1/2 cup butter, divided
3 cups shredded Cheddar cheese, divided
1 pound ground pork sausage
12 eggs
1/2 cup milk
salt and pepper to taste
Add all ingredients to list
Directions
Prep15 m
Cook45 m
Ready In1 hour
Preheat oven to 350 degrees F (175 degrees C). Lightly grease a large baking dish.
Bring water to a boil in a large saucepan, and stir in grits. Reduce heat, cover, and simmer about 5 minutes, until liquid has been absorbed. Mix in 1/2 the butter and 2 cups cheese until melted.
In a skillet over medium-high heat, cook the sausage until evenly browned. Drain, and mix into the grits. Beat together the eggs and milk in a bowl, and pour into the skillet. Lightly scramble, then mix into the grits.
Pour the grits mixture into the prepared baking dish. Dot with remaining butter, and top with remaining cheese. Season with salt and pepper.
Bake 30 minutes in the preheated oven, until lightly browned.
You might also like
Southern Grits CasseroleEvery Southerner knows grits make the best breakfast!Allrecipes Cooking SchoolUP YOUR KITCHEN
GAMEJoin Allrecipes Cooking School Today!
Footnotes
Partner Tip
Try using a Reynolds® slow cooker liner in your slow cooker for easier cleanup.
Nutrition Facts
Per Serving: 403 calories; 29.9 g fat; 16.8 g carbohydrates; 16.5 g protein; 202 mg cholesterol; 459 mg sodium. Full nutrition